You Searched for
Solution

Ongoing Protection
PowerGard Crawling Insect Killer Surface Spray is a direct spray for fast kill of crawling insects. It has a long reach spray to kill from a distance of up to 2m and keeps killing crawling insects for up to 6 months when sprayed on surfaces.
Effective and discreet, these baits are best used as a precautionary measure to prevent a small problem from getting out of control. If a cockroach ventures inside your home, the special cockroach bait will attract and quickly kill your unwanted visitor.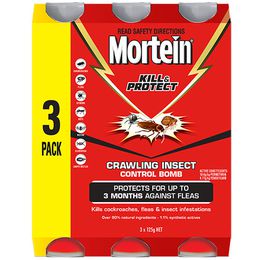 Protect your home from insects for up to 3 months with the new Mortein Kill & Protect Control Bombs. This complete do-it-yourself solution to home pest control releases a fine mist that kills more than seven of the most common pests and breaks the breeding cycle of fleas. The dual-active formula takes bug control to a new level.
Protect your home from roaches for up to 3 months with the new Mortein Kill & Protect Cockroach Baits. Cockroach baits are an effective and simple way to protect your family from these unwanted visitors. They're an active measure once a cockroach has entered your home. Consider putting the baits out in time for summer, cockroaches' favourite season. For maximum protection, use the baits in conjunction with Mortein Barrier Outdoor Surface Spray to kill any cockroach that dares to set a skinny leg over your threshold.