Naturgard Flying Insect Killer Eucalyptus
NATIONAL PARKS EDITION Inspired by Eucalyptus trees from the Blue Mountains National Park; this subtle, sweet-smelling eucalyptus spray is ideal for shooting down flies, mosquitoes and other flying pests that invade your home. With more than 90 per cent natural ingredients and 0.2 per cent trusted synthetic actives, it will take care of business and leave your home smelling like the fresh air of the Blue Mountains.
Powergard Flea Bomb
Mortein PowerGard Flea Bomb protects for up to 9 months and kills fleas and flea eggs.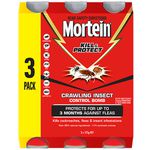 Kill & Protect Control Bombs
Protect your home from insects for up to 3 months with the new Mortein Kill & Protect Control Bombs. This complete do-it-yourself solution to home pest control releases a fine mist that kills more than seven of the most common pests and breaks the breeding cycle of fleas. The dual-active formula takes bug control to a new level.